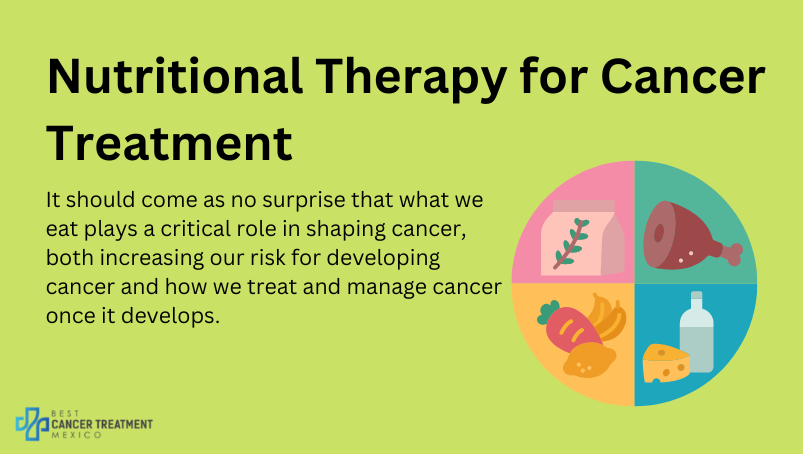 It's no secret that what we eat plays a vital role in shaping our overall health. For example,
many chronic conditions that become more prevalent each day (such as heart disease,
diabetes, and more) are all treated and managed by making lifestyle changes, including
changes to our diet. The prevalence of high fat, high sodium, processed foods has
fundamentally changed human diets and, therefore, our overall health.
So it should come as no surprise that what we eat plays a critical role in shaping cancer, both
increasing our risk for developing cancer and how we treat and mange cancer once it develops.
Keep reading to learn more about nutritional therapy, an approach to manage cancer and how
you can start on the path towards managing your cancer risk.
What is nutritional therapy?
Nutritional therapy is essentially the use of dietary guidelines to help treat, manage, and, in
some cases, prevent cancer from developing in the first place. This therapeutic approach
focuses on what nutrients and vitamins are essential to normal bodily function as well focusing
on how what's present or not present in your body can affect your overall health.
Overall, nutritional therapy is minimally invasive and requires no additional injections or scans.
All you have to do is focus on what you eat.
How does nutritional therapy work?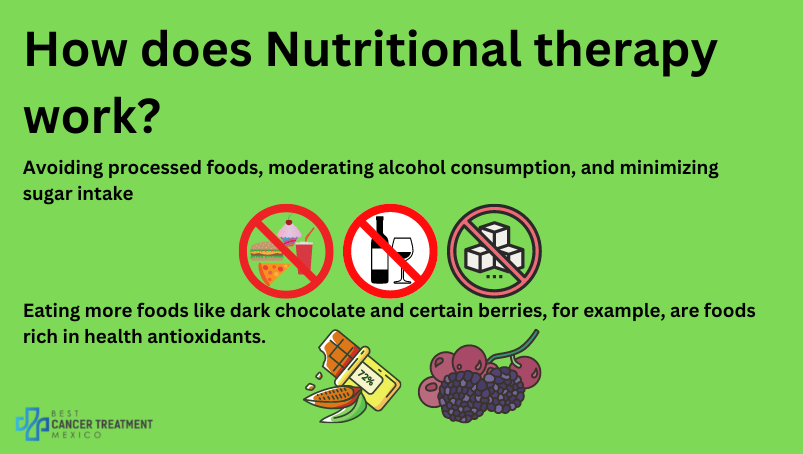 Nutritional therapy can have two potential uses: (1) as a treatment to help manage a person's
experience with cancer and systemic treatments, such as chemotherapy and (2) as a possible
cancer prevention strategy.
Prevention
There is some evidence that what we eat can help lower our risk of developing cancer. Avoiding
processed foods, moderating alcohol consumption, and minimizing sugar intake can all help
reduce a person's risk of developing cancer.
Antioxidants are another key aspect of your health that can be addressed through nutrition
therapy. It's well established that antioxidants are a vital nutrient for the body. They help keep
levels of free radicals in the body in check. While free radicals help the immune system function,
they can also cause damage to cells if left unchecked. This cell damage can lead to cancer
development.
Foods like dark chocolate and certain berries, for example, are foods rich in health antioxidants.
Management
It's well documented, both in literature and in the popular imagination, that chemotherapy and
radiation, two of the most common cancer treatments, leaves behind residual side effects that
are unpleasant and sometimes painful. In many cases, symptoms of nausea can make it difficult
for a person to eat.
Regardless of the patient's experience, nutritional therapy can be used, with the right guidance,to help improve a patient's quality of life and minimize the impact of a patient's side effects. For
example, medications could be used to help improve a patient's appetite so they can eat and
start to feel better.
Nutritional therapy for this patient population can also involve the use of specific diets and
dietary restrictions and supplements to help ensure patients get the nutrients they need.
Is nutritional therapy effective?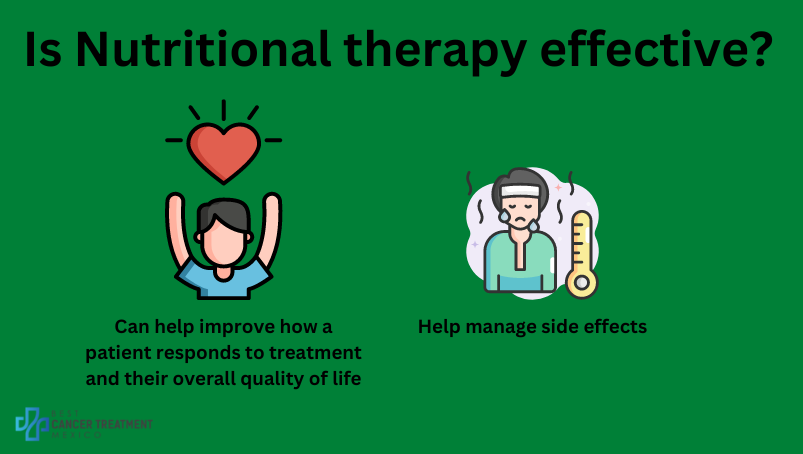 Here's what the research shows:
If nothing else, it can shape your overall health and help you feel better generally.
Is nutritional therapy safe?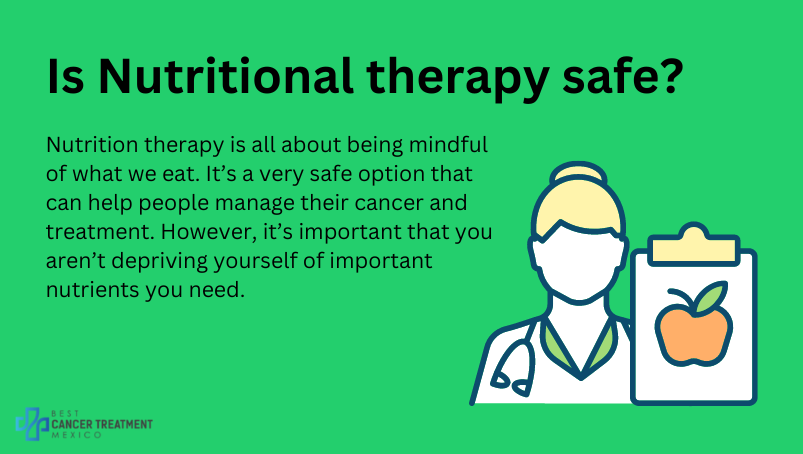 Nutrition therapy is all about being mindful of what we eat. It's a very safe option that can help
people manage their cancer and treatment. However, it's important that you aren't depriving
yourself of important nutrients you need. Your doctor or a dietician can help you make sure
you're eating what you need to stay healthy and fight cancer.
With any type of cancer treatment, it's important to make sure you fully understand the available
treatment options and choose options that work for you. This should include talking to your
doctor before starting any cancer treatment. They can help you decide which treatment options
are right for you.
Your doctor can also help you develop an effective nutritional treatment plan so you get the
most benefit.