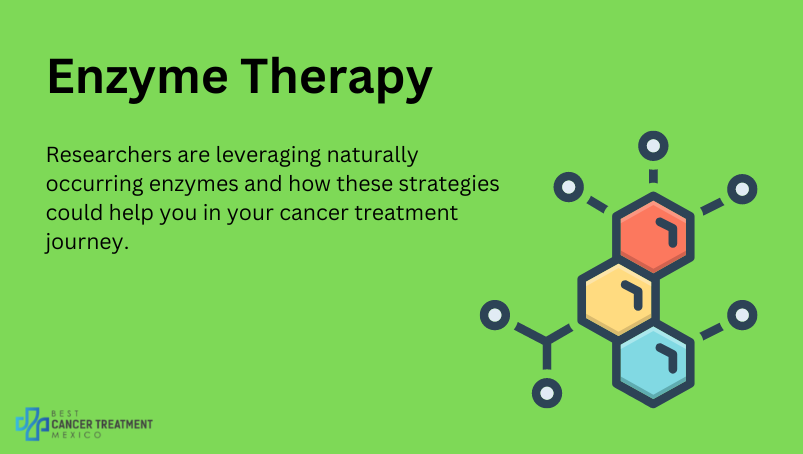 Enzymes. You've probably heard the word here and there. The fact is that enzymes play
important roles in our body. But, it turns out, they may also play a big role when it comes to
fighting cancer.
It's obvious that treatments like chemotherapy and radiation, despite being the standard, go-to
treatments for many cancers, have limitations of their own: cancer cells becoming resistant to
treatments like chemotherapy, the multitude of painful, uncomfortable side effects, are just a
few. That's why new treatments are constantly needed.
Keep reading to learn more about how researchers are leveraging naturally-occurring enzymes
and how these strategies could help you in your cancer treatment journey.
What are enzymes?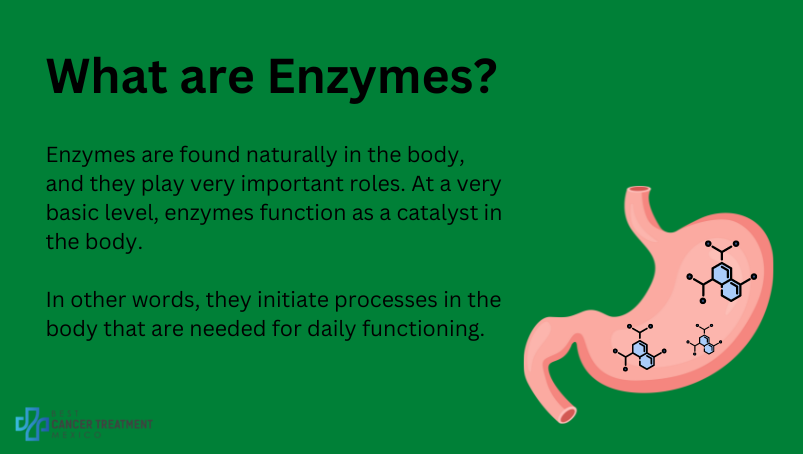 Enzymes are found naturally in the body, and they play very important roles. At a very basic
level, enzymes function as a catalyst in the body. In other words, they initiate processes in the
body that are needed for daily functioning. Both plants and animals have enzymes to help them
carry out biological functions.
For example, amylase is an enzyme found in our saliva. It initiates a process for breaking
starches into sugars when we eat food. Other examples include lipase (found in the gut) and
trypsin (found in the small intestine).
What is enzyme therapy?
Enzyme therapy, as the name suggests, refers to the use of enzymes to treat cancer or
ameliorate the side effects of cancer treatment.
The most common types of enzymes used in cancer enzyme therapy include proteases
(bromelain, papain, or chymotrypsin). Proteases are a specific type of enzyme that break down
other proteins with the goal of producing more or new proteins.
Unfortunately, it's still not exactly clear why enzyme therapy is helpful as a potential cancer
treatment and support therapy. Some research suggests that these enzymes lead to the
production of antiproteinases, which some research suggests can have anticancer effects,including helping affect the spreading of tumors and cancer cells around the body (metastasis).
Is enzyme therapy effective for cancer?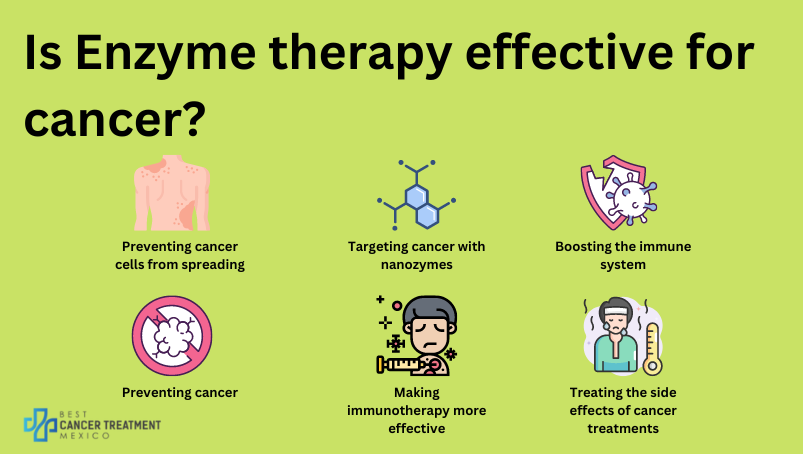 While much more research is needed to conclusively say that enzyme therapy is effective,
existing research has produced promising results regarding enzyme therapy's potential as an
anticancer treatment. Here are a few key findings from studies:
Is enzyme therapy safe?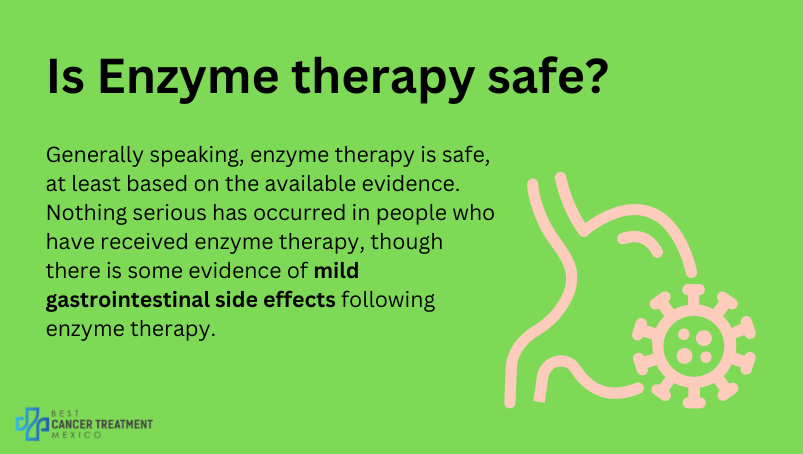 Generally speaking, enzyme therapy is safe, at least based on the available evidence. Nothing
serious has occurred in people who have received enzyme therapy, though there is some
evidence of mild gastrointestinal side effects following enzyme therapy.

With any type of cancer treatment, it's important to make sure you fully understand the available
treatment options and choose options that work for you. This should include talking to your
doctor before starting any cancer treatment. They can help you decide which treatment options
are right for you.