Secure Comprehensive Cancer Treatment at CHIPSA Hospital
CHIPSA Hospital is an inpatient hospital where cancer patients can find comprehensive treatment for all cancer diagnoses and all stages of the disease. Offering traditional treatments like chemo, radiation, and surgery as well as alternative therapies, CHIPSA Hospital offers hope and successful treatment for cancer patients from all over the world.
Located in Playas de Tijuana, a beach town 20 short minutes from downtown Tijuana, CHIPSA Hospital is a 5 story, state of the art facility dedicated to treating cancer patients. Patients and their families will enjoy comfortable accommodations and a shuttle service along with near access to beach and tourist sites.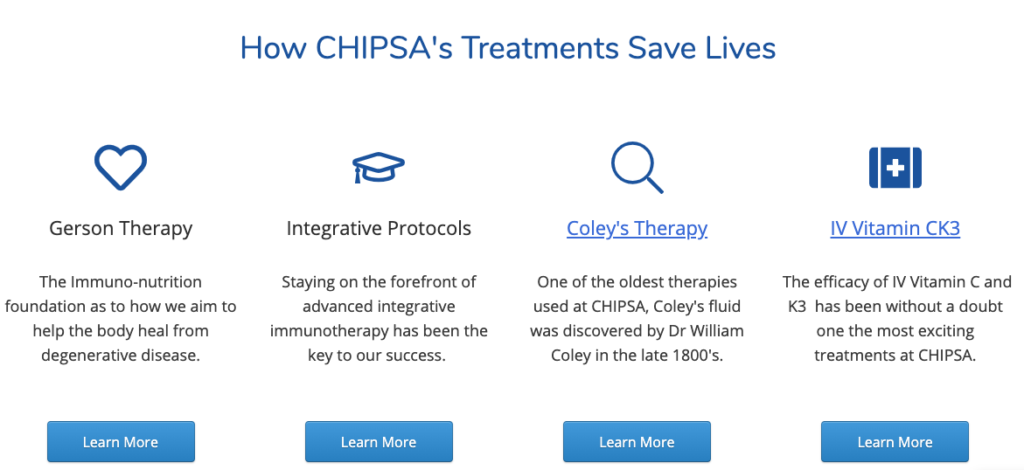 Treatments used are wide-ranging and numerous:
IV Apatone – intravenous treatment combining Vitamin C and K3 that has shown through research to have the ability to destroy cancer cells
Insulin Potentiation Therapy – side-effect free cancer treatment that uses insulin to weaken cancer cells
Immunotherapy – strengthening the body's immune system allows it to fight cancer even more effectively
Coley's Toxins – combination of various cancer-killing injections designed to produce immune response
Gerson's Therapy – diet-based immune support based upon mostly vegetarian eating
Checkpoint inhibitors
Dendritic cells
Natural killer cells
Other innate immune stimulating cancer treatments
Integrative treatment of low dose chemo and other traditional cancer meds with immune stimulating treatments
CHIPSA Hospital addresses all cancer diagnoses and has an exceptionally strong success rate with Stage IV cancer patients. The facility doesn't claim a cure-all ability, but it's real experience and comprehensive, individualized strategies offer more than other clinics can.
Embracing an all of the above approaches to defeating cancer, patients will find a balance of alternative and traditional therapies ranging from a special Gerson diet to surgical interventions.
The Doctors of CHIPSA Hospital work tirelessly to assist cancer patients with customized, comprehensive, alternative, and integrative approaches to treatment.
Introducing the Team:
Medical Director – Dr. Antonio Escobedo, MD
Director of Outpatient Services – Dr. Luis Menes, MD
Director of Surgery – Dr. Pablo Fok, MD
Surgical Oncologist – Dr. Jesus Sanchez, MD ND
Director of Aftercare – Dr. Brenda Lopez, MD
Head Nurse – Miriam Aguilar
For cost and financing information, prospective patients should reach out directly to CHIPSA Hospital.